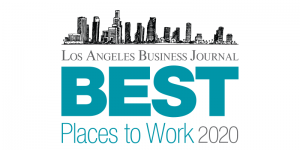 We are so humbled and grateful! For the seventh consecutive year, we have been recognized as one of the best companies to work for in Los Angeles.
Here's what our awesome CEO, Scott Akerley, had to say about this exciting achievement:
"I have been so blessed to have had the opportunity to create a company that I am so passionate about in an industry that I love that is full of amazing people. And this award means so much! It's one of those things that was amazing the first time we received it, but it's still just as meaningful seven years later! We are beyond thrilled for the many more wonderful years to come!"
And, our President, Jeff Russell, had this to say:
"Our mission is to run exceptional real estate service businesses that enhance the lives of the people and communities that we serve, so making this list is just proof that we are meeting one of our highest priorities – enhancing the lives of our people."
And finally, thank you to each and every one of our fantastic employees. You are why we are where we are today! We are incredibly grateful for each of you and are so happy you are part of the Pango Group family.
Here's a bit more information about The Best Places To Work survey:
The Best Places To Work in Los Angeles list launched 14 years ago by The Los Angeles Business Journal, honors companies that achieve business success while fostering a positive work environment. This survey and awards program was designed to identify, recognize, and honor the best employers in Los Angeles, benefiting the county's economy, workforce, and businesses. The list is made up of 100 companies.
To be considered for participation, companies had to fulfill the following eligibility requirements:
Be a for-profit, not-for-profit business or government entity;

Be a publicly or privately held business;

Have a facility in Los Angeles;

Have at least 15 employees in Los Angeles;

Be in business a minimum of one year.
Companies from across the county entered the two-part survey process to determine the Best Places to Work in Los Angeles. The first part consisted of evaluating each nominated company's workplace policies, practices, philosophy, systems, and demographics. This part of the process was worth approximately 25% of the total evaluation.
The second part consisted of an employee survey to measure the employee experience. This part of the process was worth approximately 75% of the total evaluation. The combined scores determined the top companies and the final rankings. Best Companies Group managed the overall registration and survey process in Los Angeles, analyzed the data, and determined the final rankings.
---
If you have an escrow question or want to learn more about our company and services, please reach out. We are here to serve you!